Communication takes an important role in information sharing and promote the activities to enhance their effectiveness. On 18/10/2019, providing information for newspapers about good models of free-smoke environment, the Ministry of Information and Communication in cooperation with Health Bridge (Canada) and Vietnam Steering Committee on Smoking and Health (VINACOSH) organized a workshop to provide the information for reporters and journalists of the newspapers.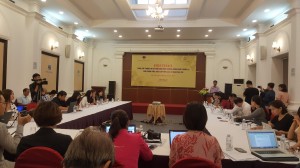 At the workshop, the results and models building up in the whole country are shared and talked openly. On behalf of Sai Gon bus station, Mr. Ho Qui Vinh presented and shared the achievements and experiences during the process of no-smoke environment enhancement through strengthening rewards and fines and the community participation at two bus stations: Sai Gon bus station and western bus station.
It is the project managed by the center of health consultation and community development in cooperation with department of transport, the public health institute of HCM city and the two bus stations (Sai Gon and Western bus stations).
The project begins in late 2018 and so far it has gained some significant achievements such as the establishment of the Project steering committee of tobacco control, providing training for capacity enhancement of  90 staff including task force teams at the two bus stations, transport police relevant to violation fines. At the same time, many training document and guidelines were published to provide the information, behavior change and guidelines of fines. The results of fixed monitoring, quarterly meeting are the basis to review the program suitable with practical situation.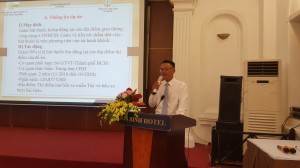 It is also a good opportunity for center of health consultation and community development to share the pilot model and extend to other bus stations in HC city as well as experience learning from new models in the country.
Comments
comments